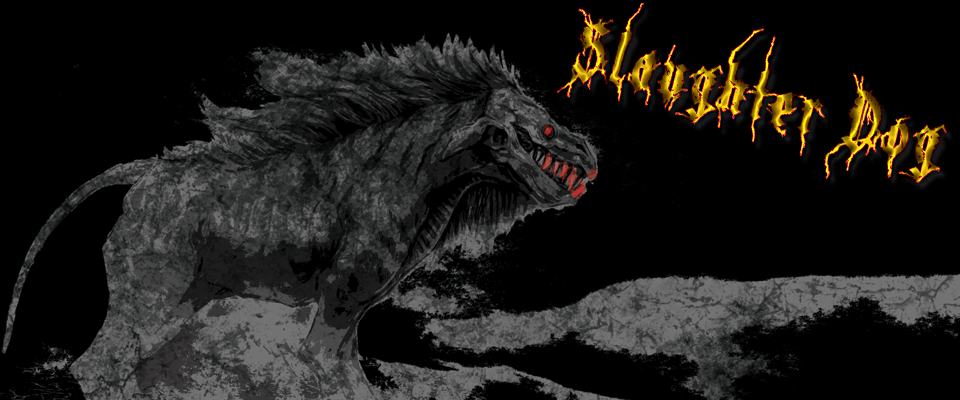 Slaughter Dog
Equal parts hyena, wolf, and corpse-eating nightmare, the Slaughter Dog is a monster for use with the death metal TTRPG Mörk Borg. There's nothing dark/tragic fantasy about this entry into the series like I would normally do. This one is just hunger in the shape of teeth and gristle. A serious threat at all times, but so much worse when it's hungry, or if it smells blood, or if it just decides to bite you (which is absolutely its go-to move). If you actually managed to train one not to eat you, however, you'd have quite a watchdog to harry your foes and eat their bodies. The dog could, I mean. Well, either way, really.



Slaughter Dog is an independent production by Cody Faulk and is not affiliated with Ockult Örtmästare Games or Stockholm Kartell. It is published under the MÖRK BORG Third Party License. MÖRK BORG is copyright Ockult Örtmästare Games and Stockholm Kartell.

Purchase
In order to download this Monster you must purchase it at or above the minimum price of $1 USD. You will get access to the following files:
Claim or Donate Free Community Copies of the Monster
Support this Monster at or above a special price point to receive something exclusive.
Community Copy
If you are in need and can't afford a copy of the class, help yourself to a free community copy of the Slaughter Dog below.
Every paid purchase contributes more free community copies to the pool, so your generosity can help others experience the class:
1 purchase at the minimum price = +1 community copy
Tips in $2 increments over the asking price add an additional +1 copy per $2