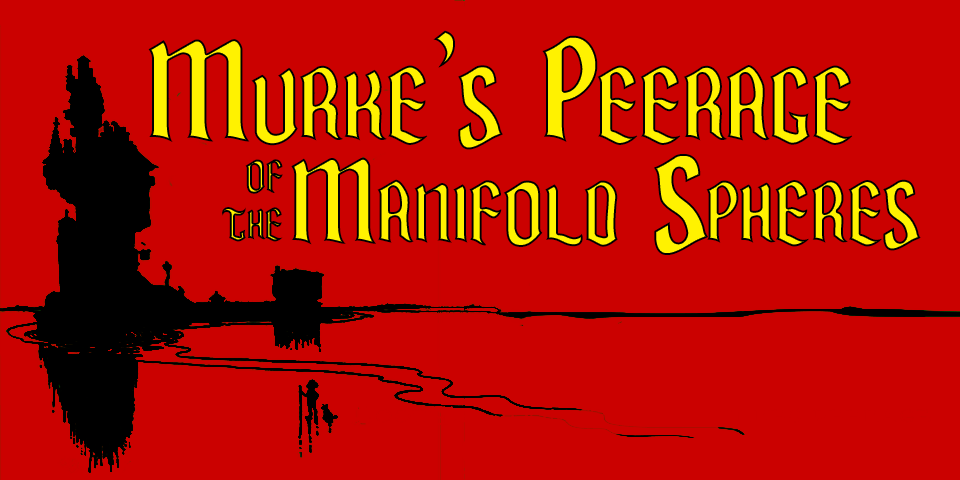 Murke's Peerage of the Manifold Spheres: vol. C through 18
Jonne Murke was Troika!'s pre-eminent scholar of the esoteric, obscene, and transcendent. While most of his work concerned identifying and cataloging the variant flora and fauna of the divergent spheres, his lesser-known passion was in identifying and cataloging people.
Murke's Peerage is his seminal work, a registry of notable personages, a study of the transcendent and the bizarre, and what he called "the definitive account of remarkable noteworthies across Troika! and the Elsewhere Lands."
Existing across several hundred volumes, a complete collection of Murke's Peerage is said only to exist somewhere in the library sphere of Biblonsong. This volume represents a mere fraction of Murke's work, and should be studied in conjunction with other surviving volumes if one wishes to come to a full understanding of the extent of Murke's obsession.


This volume of Murke's Peerage contains the following Backgrounds for use in your Troika! games:

Aspirant to the Lambent Visage - Super cool witchy lady? Check.
Cannphibion - BOOM... but also ribbit.
Doorbane Zealot - Doors are just barriers, and barriers are jerks.
Misinformationist - Truth sells, but who's buying?
Somnolence Warden - Shhhh. Also you're a bird.
Starborn - I'm not saying this is Dr. Manhattan, but it's Dr. Manhattan.
Murke's Peerage of the Manifold Spheres - vol. C through 18 is a part of Murke's Peerage of the Manifold Spheres bundle, a collection of new Backgrounds for Troika! by Melsonian Arts Council (unaffiliated with this work). Murke's Peerage of the Manifold Spheres is a collaboration between Cody Faulk (that's me!), Chris Bissette, and Matt Sanders, and is an independent production not affiliated with the Melsonian Arts Council.
Purchase
In order to download this Peerage you must purchase it at or above the minimum price of $3 USD. You will get access to the following files:
C-18 Murkes Peerage - Pages.pdf
2 MB
C-18 Murkes Peerage -Spreads.pdf
2 MB
Claim or Donate Free Community Copies of the Peerage
Support this Peerage at or above a special price point to receive something exclusive.
Community Copy
If you are in need and can't afford these Backgrounds, help yourself to a free community copy of Murke's Peerage of the Manifold Spheres vol C through 18.
Every paid purchase contributes more free community copies to the pool, so your generosity can help others experience the Backgrounds:
1 purchase at the minimum price = +1 community copy
1 purchase as part of the Murke's Peerage of the Manifold Spheres Bundle = +1 community copy of vol. C through 18.
Tips over asking price add an additional +1 copy per $2